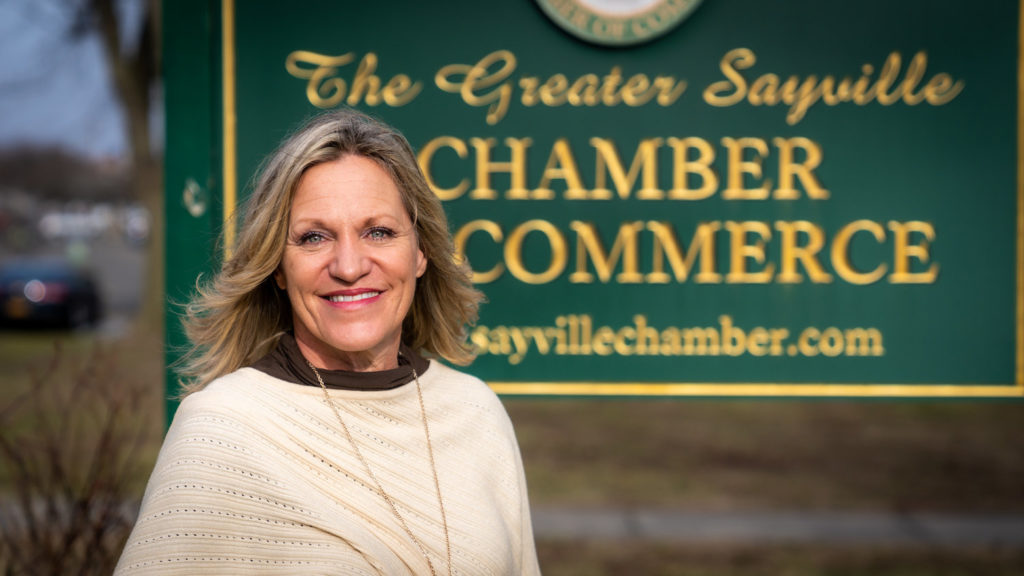 Article by: Sam Desmond
Photo by: Ryan Sweezey
The best way to describe Eileen Tyznar's role in the community would be "fairy godmother." As someone who has enough titles to fill the calendars of at least five other people—chamber president, Rotarian, Pilot Club leader, CEO, mother, wife—Tyznar thrives on running at full throttle.
But despite all her roles, being nominated for our Inspiration Award was an absolute surprise to her. "I could think of a thousand people who should have this honor instead of me," Tyznar said on the verge of tears. "There are so many amazing individuals in this community who work tirelessly to make it better."
Being a Sayville resident for 28 years, Tyznar has devoted her life to affecting change and raising the quality of life for her fellow community members. She is not one to shy away from the drudgery or minutiae of an endeavor, often getting into the nitty-gritty of paperwork labyrinths and maintaining a jam-packed schedule of events. It is her business—which she started from the ground up, TEACH Consulting—that has resulted in this invincibility to the most taxing of regulations and hurdles. TEACH Consulting is a groundbreaking company started by Tyznar, one of the first of its kind, that provides assistance in educational advocacy. The mother herself of a child with diverse learning needs, Tyznar navigated the landmine of IEPs and additional services firsthand and saw a paucity of support and expertise for parents.
Established 11 years ago, Tyznar said that she "wanted to help unique children reach their potential through assisting in mediation with the school to maximize services." Originally set up in her basement with just a pad of paper and $72, Tyznar grew her proprietary niche business into one serving over 600 students with a far-reaching network of teachers, specialists, doctors and attorneys throughout Long Island and New York City.
"The struggle our students are facing with receiving the appropriate and adequate care they deserve from our public schools is really an issue of civil rights, and it's one I take pride in fighting for," Tyznar said of her broad goals for her consulting services.
Tyznar takes this focused and uplifting approach to her other work for the community, especially as Youth Leader for the Rotary Club's Sayville chapter and president of the Greater Sayville Chamber of Commerce.
"Every young person needs the resources to find their talent, to have a place where they feel welcome and confident," Tyznar said of her unique devotion to the children of Sayville. "It is not just about the businesses, but creating a sustainable future for our kids that the chamber works towards. We want our children to be able to—to want to—come back to their hometown and live their lives. If they can discover their talent here, they might want to share it here, too," Tyznar said of her special role as a community leader.
Boasting some of the most heavily attended chamber festivals under her leadership (Tyznar eschews the word "leader" and prefers "facilitator" as a working title), Tyznar is responsible for expanding the family-friendly activities and free events at these festivals, the latter of which were designed to help young families come out and be a part of the neighborhood without having to spend lots of money on entertainment.
It isn't just the youth that Tyznar is focused on in our community—as a true visionary, she wants everyone to have a place at the table and a desire to stay at the table. Recalling a partnership with the Bristal Assisted Living facility on Lakeland Avenue, Tyznar made an exemplary effort to learn about the seniors' needs and wants, and organized an indoor planting day after discovering how many people missed gardening. Pooling community resources, most supplies were donated, and the chamber was proudly able to display flowerpots put together by local senior residents.
"We can't give up on anyone; we want generations to want to stay here and that means getting everyone involved in the community," Tyznar said.
Receiving the most glowing nominations for the Inspiration Award, the shortlist of Tyznar's accomplishments took well over a single-spaced page, but her spirit and her devotion to her neighbors is unbound and encompasses the whole community. Described as "the most joyful, optimistic, energetic, generous and involved person I know" by local attorney Pamela Greene of Bayport, Tyznar's effects can be found throughout the neighborhood. She is a woman without limits who believes in fighting to bring out the best in others. A recurring motif of Tyznar's multiple nominations was that she was a person who you "could never say no to because she never says no to anyone," and her work throughout the bedrock and growth of the community is a testament to that belief.
SOURCE: http://suffolkcountynews.net/stories/2019-inspiration-award-eileen-tyznar,85097