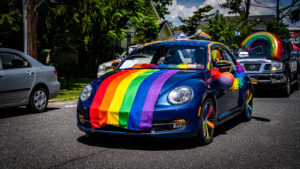 While June's biggest celebration, Pride Month, had some of its characteristic glitter and luster taken away due to the
COVID-19 crisis, that did not stop the Transgender Resource Center of Long Island (TRCLI) from hosting a rainbow-extravaganza of a "Pride Ride," where cars lined up, decked out in LGBTQ+ regalia.
With members of both the Greater Sayville Chamber of Commerce and the Sayville Civic Association in attendance and serving as judges for the "best in show" cars, the Pride Ride enjoyed vast community support, just as the LGBTQ+ members have seen in the past. Last year,
Pride flags lined Railroad Avenue and Main Street as a thank you and show of support to the LGBTQ+ community, who come out in droves every summer to the Sayville LIRR train station en route to Fire Island Pines and Cherry Grove.
There were some somber moments in the Pride Ride, as one SUV was decorated with transgender flags and printouts of trans women who were murdered because of their status, with a plea to "Stop killing us."
Many cars flew their specific LGBTQ+ flags, including the lesbian, genderqueer, trans and pansexual flags.
Almost every car was filled with multiple family members or friends, who cheered as they drove by the judges' table that was stocked with mini Pride flags, clappers, and bottles of water, courtesy of the supporting organizations.
In previous weeks, a Black Lives Matter march was organized on the Common Ground (where the Pride Ride judging table was stationed) and the main speaker, Sayville business owner Phil Young, spoke of the "LGBTQ+ community's solidarity with Black Lives Matter," and went on to thank the community's patronage of Sayville, saying they were integral to the success of Main Street.
Numerous cars featured their support of the Black Lives Matter protests with signage in conjunction with LGBTQ+ pride.
Radio station 97.5 Walk FM broadcast the entire event on their social media.
Participating vehicles paid a registration fee that was then donated to the Sayville Chamber's relief fund. "The TRCLI is very active in the Sayville Chamber and a wonderful asset to this town. I am humbled and honored about the donation to the relief fund," said chamber president, Eileen Tyznar.
In previous years, a Pride Parade was held on Main Street culminating into a family picnic on the Common Ground. This year, due to COVID-19, social distancing rules were observed and masks abound for all participants and judges. The prizes were three gift cards in the amount of $250, $150, and $100.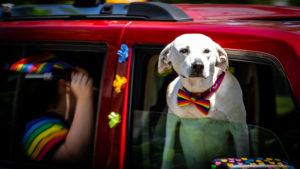 The TRLCLI, who organized and hosted the Pride Ride, is a 501(c)(3) charity established by members of the transgender, nonbinary, and gender-nonconforming community, their families, partners and allies. The goals of the TRLCI include a community center that is a safe space serving as a one-stop hub for resources of the trans community as well as a point of pride for visitors.
TRCLI holds a variety of events throughout the year, hosts guest speakers, and organizes group outings for the betterment of the lives they serve.
Executive eirector and one of the Pride Ride organizers, Mila Madison, is a writer, media publisher, and former music industry CEO, who has raised money for charities including HIV/AIDS research, abused women, and cancer research.
Ursula Nigro, director of operations, is a writer and former ballerina from Long Island Ballet Theatre. Running the center's day-to-day operations and being a mother to three girls, she is a trans partner and an advocate for the transgender and gender-nonconforming community.
"We got great feedback, nothing but positivity. It was wonderful to see Sayville smiling and come alive after being cooped up for so long," said Madison of the Sayville community.